Recently, 3D printing in education has become more widely known. Despite 3D printing being relatively new on the mainstream market, more and more 3D printers and applications of 3D technology are being found. The leading 3D printing manufacturers have already developed specialised machines for children and printers to cover educational needs.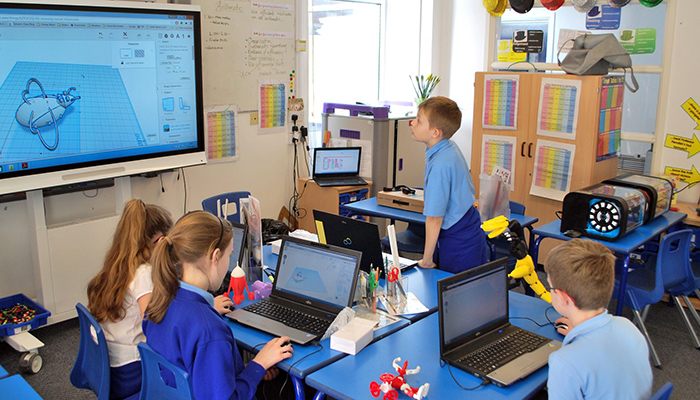 Nowadays the importance of the inclusion of 3D printing in professional degrees and in schools is already a fact. Since training is essential for the application and implementation of professional 3D technology, especially for the industry it is a professional necessity. However, when it comes to the use of 3D printing in education, questions arise: Is 3D printing really established in education? How to get the application of 3D technologies in schools and why should it play an important role for our children?
By Michelle S.
Therefore, several important factors must be considered, beginning with the possibilities and benefits that 3D technology brings to education. How can 3D printing be integrated into the classroom in order to achieve a learning effect? How to get to the concrete financing of 3D printing in schools?
The benefits of 3D printing in education
Of course, in the schools of Europe, the 4.0 industry or the Internet of things (IoT) has not been left out. The learning experience and education for digital media is becoming a priority, not only in school education, but also in the classroom itself. 3D printing or 3D technologies should be mentioned as a significant example to realise that. The practical application of this can be incorporated into a wide variety of school subjects to simplify the often difficult theoretical concepts for students
Students can benefit from the use of 3D printing in two different ways: First, they acquire knowledge about new technologies. This is important, since 3D printing will have more and more importance in the future and will lead to profound economic and social changes through technology, without a doubt it is said that it will open a work field. On the other hand, thanks to 3D printing in education, complex theories can be simplified. Therefore, students benefit especially in the so-called MINT subjects, where 3D technology helps their understanding. But also used in subjects such as art, technology, geography etc. can 3D printing be an advantage.
Elvira Rach, head of education at iGo3D GmbH, commented: "Digitalisation and technology are changing everything, especially in schools, the growing digitisation is a big issue and the field of 3D printing is especially paying attention. Education must be involved to prepare students for the future, but these changes are so profound that it is not enough to just place an iPad in the classroom. 3D printing can completely change the way students learn and the physical tangibility of the content, learning in a special way."
How to design a study program with 3D printing?
The use of 3D printing at school makes sense when looking at the range of benefits it entails. But what are the possibilities of integrating 3D printing in schools and its classrooms? Especially with the crowded curriculum of the students. What time is then left to handle such an innovative technology as 3D printing?
Although the use of new media has been interdisciplinary integrated in all the programs, an example is the alliance between Samsung and Makerbot to create 1,300 intelligent classrooms in European countries such as the UK, where 3D printing is already the priority. But, the use of innovative 3D technology so far is still mainly aimed at specific projects or full days of projects.
"Working with 3D technology will focus on the whole process of product development, students explore different topics and turn their ideas into 3D models, design three-dimensional objects on the computer, apply innovative technologies, evaluate and correct results", said Elvira. Rach, who has already worked with many schools for Com3Du and iGo3D.
In the US and other places, have varies summer camps have already been set up to teach and entertain kids over the summer. Places such as Try Engineering Summer Camp powered by IEEE, iDtech and The Digital Media Academy (DMA) have all set up locations for children to explore the subject of additive manufacturing from a young age. Another initiative is Ultimakers collaboration with DMA developing printers focused on the special needs in such a camp or school environment.
As mentioned earlier are these projects not only being focused on a school level, but have also been implemented in various Universities for a while now. One place focused on its possibilities have been the University of Florida. They started an initiative with a National Science Foundation-funded program called iDigFossils, which offers curriculum on complex subjects in science, using 3D printed fossil replicas securing future generations with 3D printing in education.
Teachers learning about 3D printing for schools
It is important to support schools and teachers who want to integrate 3D printing in education. Undoubtedly, there are a large number of schools and teachers who would like to work with 3D printing, but the implementation is stagnating due to the lack of knowledge. The application of a 3D printers is not only a completely new territory for students, but also for some teachers.
To help interested teachers trying to integrate 3D printing into the school, despite their lack of knowledge, there are certain guides or training, from the well-known "MakerBot Educator's Guide", to courses such as IT3D or from the company BQ, which focus on 3D printing and robotics and helping people to understand this technology.
A collaboration platform that offers services to learn about free 3D printing is the "Education Project", which brought 3D printing to schools in the United Kingdom. The strategy of the platform consists of 6 key aspects: community, reliability and support, education, access, teaching and economics.
In partnership with the global 3D printer company PrintLab, based in the United Kingdom, partners want to pursue their shared vision of supporting the integration of 3D printing in schools. That's why companies are partnering with teachers to provide them with tools and materials .
The association is characterised by the complementary abilities of the individual. For example, Create Education mainly does the creative work of properly refining 3D technology. Specifically, the two companies jointly offer a 3D printing package that includes a curriculum, materials, hardware and extensive support.
However, we don't always have to talk about 3D printers alone. An example is 3Doodler, offering a range of learning packages for your 3D pen. The 3Doodler pen is a simple way to integrate 3D printing into schools. It facilitates the creation of 3D art works, which gives students a basic understanding of three-dimensionality.
The financing of 3D printing in education
The step towards digitalisation in schools costs money. In most cases, there is not much more money available to schools than their standard budget. There have been few initiatives in both the US and the UK.
Great Britan announced in 2017 their plans to become a world leader in the additive manufacturing sector by 2025. The plan by AM UK was send out as the "Additive Manufacturing UK National Strategy 2018-25," and speaks of how this will occur. As the UK is already one of the largest countries in Europe within additive manufacturing (second to Germany) the UK is already pretty well established in the industry. As Europe has a large amount of 3D manufacturers such as Ultimaker and the online service Shapeways, the initiative is only logical.
Also Singapore is so convinced of the potential of 3D printing and its technology that plans to introduce at least a 3D printer in the next 5 years for each primary school in the country have been put in place. And Cities like Tokyo already offer 3D printing courses to the smallest of schools. The country is aware of the future importance of 3D printing in many areas. Now they have decided to invest a lot in education to bring 3D printing closer to the potential shortage of skills.
In summary, although they are ahead in Asia, there are being taken steps both in Europe as well as in North America to rectify this. We are curious to know what the future will bring and how 3D printing in education will prevail in Europe and North America.
What do you think about the implementation of 3D printing in education? Let us know in a comment below.
Discover more about 3D printing with RobotLAB!
Discover our printing products and start engaging your students with the latest technology in the classroom!