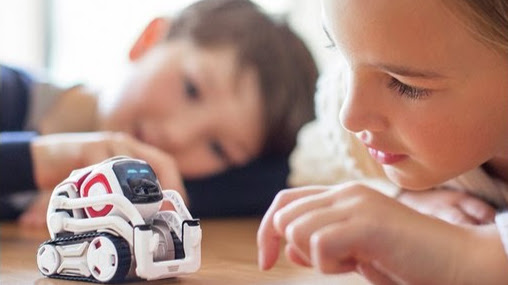 It is pretty amazing to think about how far we've come with technology over the past three generations. Things our grandparents couldn't even begin to imagine are now the things our children take for granted. With as far as we've come already, it can be hard to believe that we are just beginning to scratch the surface of what is possible going into the future.
Opportunities for our children to make a difference in the quality of our lives using new technology are boundless. In particular, the field of robotics and robotics engineering is exploding and will likely be a major draw for young talent in the coming years. Giving your child the opportunity to "nerd-out" in robotics is fun for them now, but it has a very real potential to lead them straight into a dream career as well. And what a better opportunity to reinforce those skills during this Coronavirus (COVID-19) quarantine!
Robotics is a ton of fun no matter what your background is in. If you are preparing your kiddo for their first robotics competition, here are some things to keep in mind.
Finding Inspiration
There are all sorts of examples of robots that are making our lives substantially easier and many that are greatly improving conditions surrounding us. For example, artificially intelligent robots are now being designed to help us clean up all of our trash out of the oceans. Designs like this can help reduce pollution, improve fish nursery habitats, and help ensure we have a quality food source going into the future.
No matter what your child's interest is, there is a chance that robotics is changing the field right now. Real-world applications can be found and used as your child's inspiration in industries such as medicine, agriculture, military, event management, mechanics, and (obviously) computer science. There are many great online coding educational programs like the one offered by CoderZ that can allow students to easily immerse themselves in a critical element of the robotics world. CoderZ specifically focuses on teaching robotics engineering to children from beginner levels all the way up to more advanced abilities, which may be exactly what they need before they feel confident enough to enter a competition. Literally, if your kid can dream it, technology is developing rapidly enough that they can probably build it.
Gearing Up
Finding a robotics team or classroom project is likely one of the best ways to get your child involved, especially if you have limited experience with robotics yourself. Teachers and group leaders can help teach them how to make their dreams a reality. From there it is as simple as putting everything together and heading off to their first robotics competition.
All sorts of different competitions exist, ranging from local competitive groups to collegiate or school-sponsored ones, and some may even offer scholarships to students that do well or come up with creative designs. There are also online-based ones, such as the ones offered by CoderZ, which takes place over a cloud-based server and can be accessed from any computer; participants code 3D virtual robot models to perform specific tasks.
The majority of competitions expect competitors to meet basic pre-determined competition requirements that can be found when signing up. Really, the level of depth is completely dependent upon what your child wants!
Making it Happen
Robotics is becoming a popular activity for kids because to be completely blunt, it's a lot of fun. The field is very hands-on and engaging, which means kids are learning with their hands and brains rather than just listening to someone talk at the front of a classroom. Additionally, it's not an exclusive thing — anyone with a little bit of coding experience can design a robot regardless of social status, physical ability, or gender.
Beyond getting your child involved in a robotics club or classroom project, you can also stoke their interest in other activities. For example, let them play with DIY robotics kits at home to get their creative juices flowing. Or, take them to a robotics exhibit at the museum, which can really wow them.
Robotics is a quickly growing industry with lots of opportunities for young people to make a huge difference. Building interest and inspiration in robotics can open up a whole new world for your children. Getting them involved in a local robotics club and gearing up to go to a competition is a great first few steps into a lifetime of creative fun.
Discover more with RobotLAB and Coder Z!
CoderZ is an online educational environment that improves students 21st century skills, while they are having fun programming their own virtual cyber robot. CoderZ and RobotLAB has different lessons to do at home! Check them out and keep learning!